Who doesn't like gifts? Everyone wants to be gifted! Be it on some occasions or just randomly. Though some people may not really like to be gifted in certain situations, you still can't deny the fact that the gesture of giving gifts spreads a certain warmth in your heart.
Aquarius, like everyone else, loves gifts and surprises. However, in their case, they prefer gifts that are rather meaningful and useful. They look for something that matches their vibe and go with their likes.
They may not prefer something over the top or large. But they will surely appreciate a meaningful and caring gift. They may also prefer something unique and out of the box. Being curious people, they will be intrigued by unique choices of gifts.
Below are some of the best gift suggestions you can give to your male Aquarius friend, family, or lover. Let's have a look!!
Kinds Of Gifts Liked By An Aquarius
From ancient times, we humans have been following this custom of sending and receiving gifts. We give gifts as our remembrance to the person receiving them, we give gifts as a symbol of our closeness in relation, we even give gifts to initiate a relationship.
No matter what the occasion is, or even if there's no occasion, giving gifts is a common practice followed by people up until now and will be followed in the future.
Though over the years, the items of gifts have changed, the love and heartwarming feeling it gives to one another didn't.
While gifting someone with a present, one should make an effort on knowing if the item or the gift will be liked by the receiver or not. Having a gist about one's nature and likes – dislikes can be helpful in this. After all, you can't give someone mushrooms when they are allergic to them, right?
When we talk about Aquarius, it is a common fact that they are more inclined towards the intellectual side. Hence, giving them something grand and emotional may not settle well with them. Given below are certain kinds of fields from which you can choose a gift for an Aquarius!
1) Knowledge
Being a zodiac sign who values knowledge, it is not wrong to give them something that might actually add a few more drops of depth and information inside their ocean minds. You can give them objects and books that make them see things in a new light! Oh, they will surely love it!!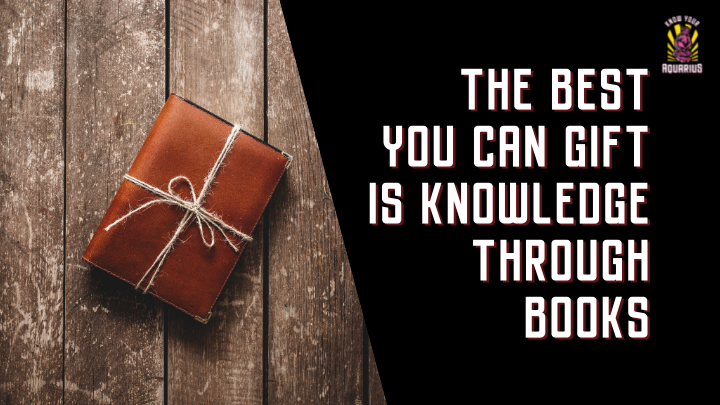 2) Technology
Aquarius is a sign that is known to be quite intrigued by technology. You can often see them following the trends and collecting the latest version of gadgets. That's how they are! They admire technology and would want to try everything that it has to offer. Hence, gifting them some cool technical gadgets would be worth it!
3) Innovations And Creativity
It's no surprise! Aquarius love uniqueness and they will surely love it if you give them something unusual. It can be as simple as a card. As long as it is creative and different, it will surely hold Aquarius' attention.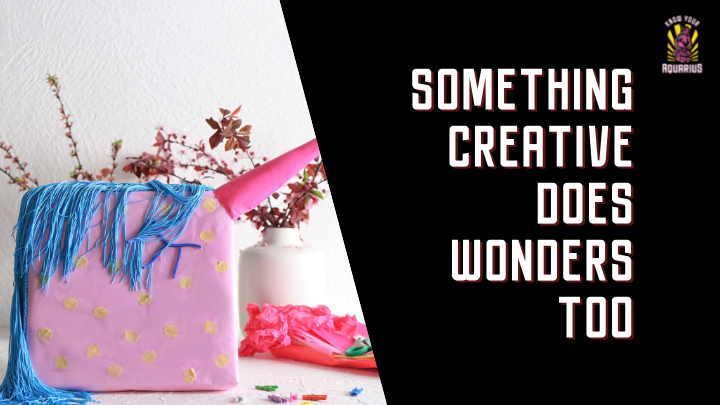 4) Charity
When I say the World can be a better place with more Aquarians in it, I mean it!! They are big thinkers who often indulge themselves in thinking about their World and its problems. They are usually the ones who come up with the best solutions regarding different world problems. They have a broader perspective about such things. Therefore, gifting something to the World on any special day in the name of an Aquarius person may actually make them feel touched. Though they may not be emotional in front of you, they may surely appreciate your gesture.
5) Alone time
No matter how social or extroverted an Aquarian is, they need to have some alone time for themselves. Their minds are always running and jumping about several topics.
Hence, they need some time to be distant from people and indulge in their own worlds. During those moments, they don't prefer human company, but they would surely love to have headphones connected to their ears playing a soft and calm track. Hence, gifting something like this can be actually pretty cool!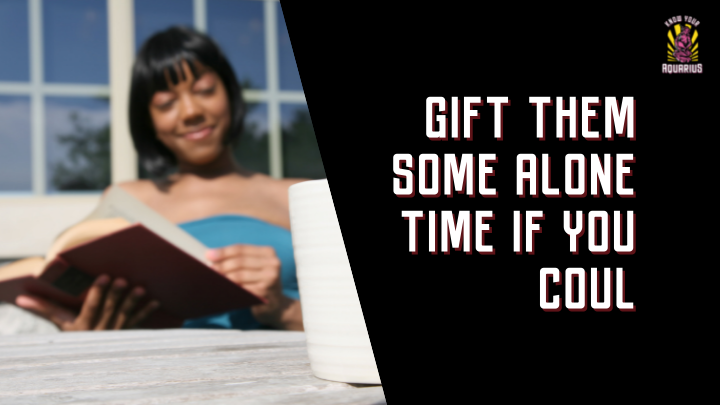 6) Experiences
Aquarius signs are all about learning and trying new things. Maybe that's why they love travelling. It allows them to see new sides of the World, try new things, meet new people and of course, gain a beautiful experience. They can always be up for things like this, hence, giving them a holiday trip or even a one-day trip to museums and amusement parks can be great!!
7) Hobbies
Most people, including Aquarius, have certain things that they are good at, and even if they are not, they just simply enjoy doing it. This is what we call hobbies.
When you give an Aquarius something related to what they like to do in their free time, it will eventually create a special place in their hearts. It can be as simple as gifting a paintbrush to an Aquarius who loves painting or a guitar to an Aquarius who loves playing it.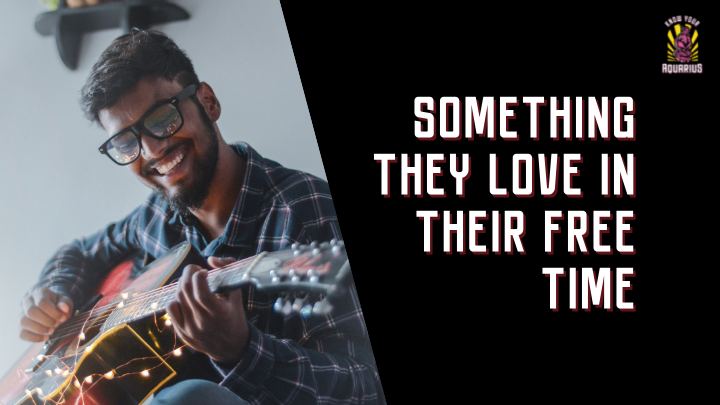 8) Music
It's a known fact that music brings joy and evokes emotions. Well, it is applicable for an Aquarius too. As mentioned above, music can be a great company in their alone time, but that's not all.
They can even prefer listening to it while traveling, studying, or doing something else. Hence, gifting them gadgets related to music can be quite helpful.
9) Travel accessories
As mentioned above, Aquarians hold a huge heart for traveling.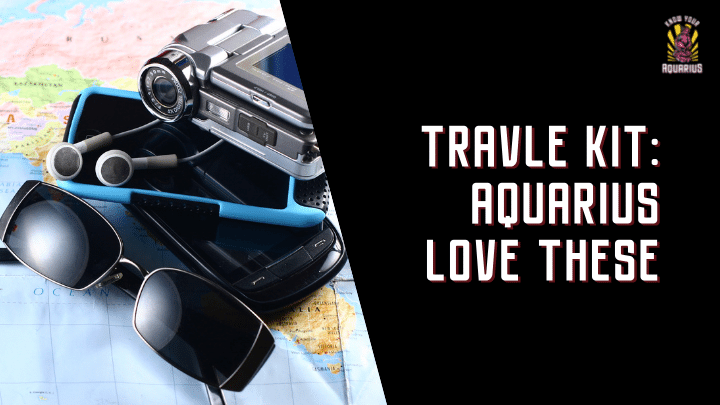 Therefore, gifting them something that would be necessary while traveling can be a great present. You can give them an insulated water bottle that can keep cold water cold and hot water hot. You can also try gifting them gloves or duffel bags.
10) Small things
The heading may sound weird, but it is actually one of the most meaningful gifts you can give them! They don't like extravagant or over-the-top gifts, but they surely love gifts that show your care for them.
You can give them a simple cozy sweater during cold weather or a kit full of tools since they may not have time or ignore buying such stuff. Sometimes action speaks louder than words, this may give them that feeling!
Gifts For Aquarius
Aquarius loves gifts that can boost them intellectually or simply help them in doing certain chores. They love the technology and gadgets that today's World has to offer. Hence, gifting them a brand new technical gadget is worth it!!
A) Badges
Yes!! As simple it seems, it can actually be a great gift for an Aquarius. The badge should hold something beautiful and serene. You can even keep something cool or add a person or celebrity's picture there that they adore.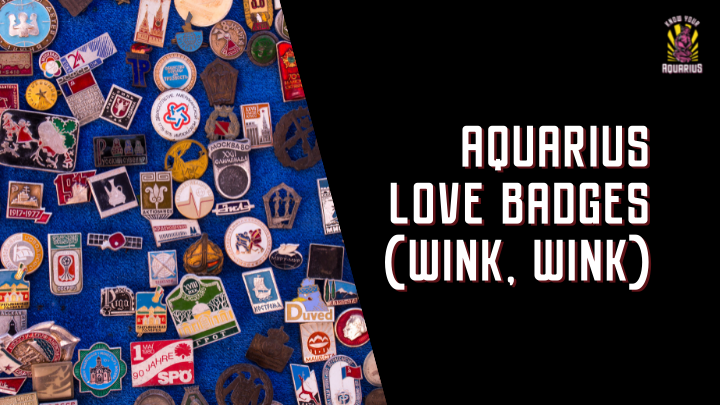 However, you have to make sure you get just one badge to make it special. They can put it in their school bags, office bags, or any place they want. It will be really special to them as it reminds them of you.
B) Novels And Books
It's no surprise that they will love this gift!! Aquarius is known for their intellect. They would absolutely love something that helps them increase their views and adds to their knowledge. They would love to read books about Aquarius. They may even love novels with great plots and twists, especially those ones that keep them on edge.
C) Strategy Games
Strategy games like chess are pretty great gifts for an Aquarius. They would love to use it when they are bored or simply want to play with someone.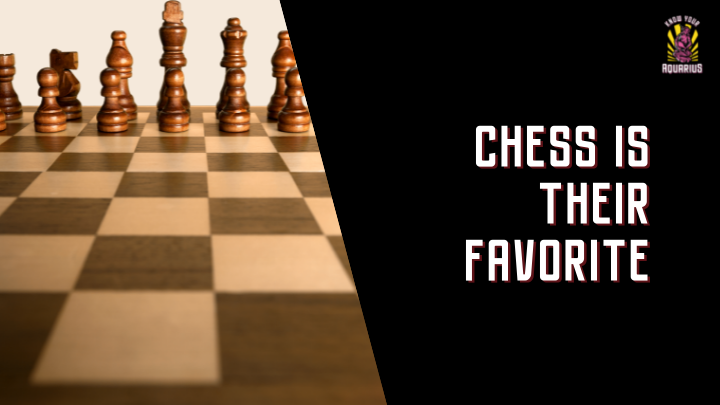 D) Indoor Plant Or Seedling
Growing a plant or taking care of it brings a strange sort of peace in one's life. Many people keep and grow plants in their houses to keep them lively. It also helps them relieve their stress and keep them away from tensions for some time. Giving an Aquarius an indoor plant would be great as they may spend their time taking care of it and may actually have a peaceful or stress-free mind while doing so. Apart from relieving stress, it can also make them gentle in their actions and gestures.
E) Headphones or iPod
Aquarius love to have their 'alone time.
No matter how social or extroverted they are, they often find themselves getting distant from people at times and get indulged in their own World. They may think about their issues or maybe world problems. Their minds might be continuously building up new scenarios. At those times, these headphones and iPods may come in handy!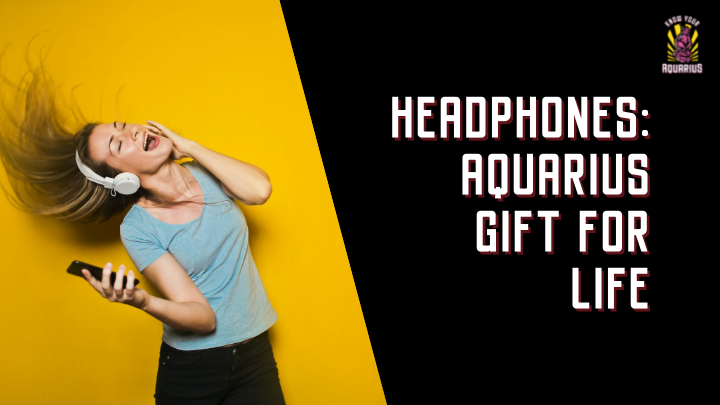 F) Art Paintings
If your Aquarius friend is a creative one, gifting them art paintings is the best. You have to make sure, whatever art piece you are picking up should have a deep and gripping message in it. This might intrigue them and may make them take an interest in it.
G) Book A Trip!
Aquarius loves traveling. It gives them an opportunity to try new things, gain new experiences, meet new people, and have a sense of freedom. And that's what Aquarius is all about! They would love to go on a trip with you or even alone!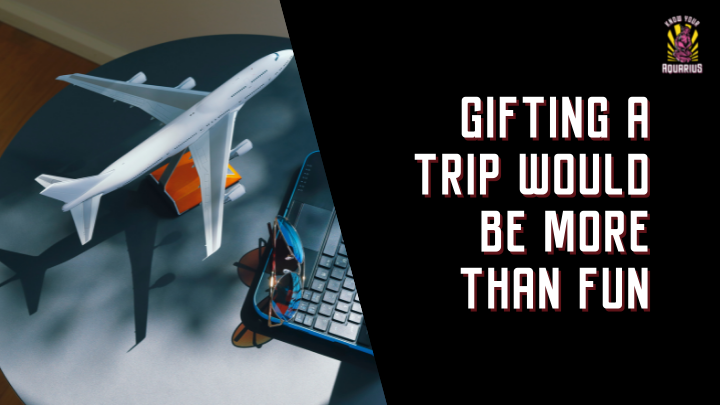 H) Museums
Taking an Aquarius to a Museum can be great as it can help them to enhance their intellect.
I)Amusement Parks
Aquarius, being the curious beans they are, would love to try something new and exciting. What is better and exciting than an amusement park? They would have a pretty great time there and may be willing to try new and amazing rides there!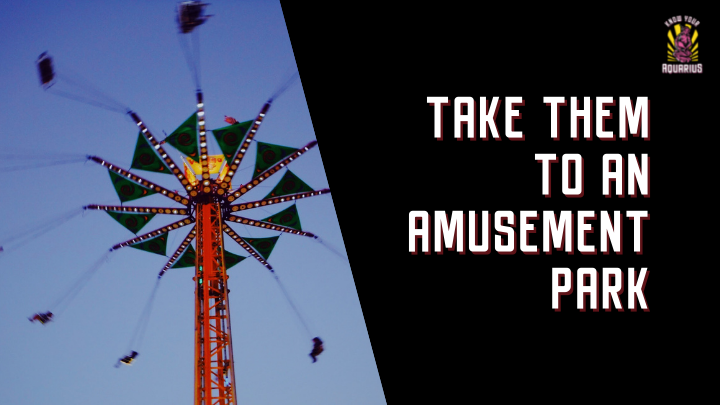 J) Collectibles And Figurines
Personally, I feel this is the cutest gift to give someone. An Aquarius would love to have them and might keep them in their tables or somewhere else. These figurines might become something special for them as they will make them remember you whenever they see it.
K) Personal Diary And Journals
Being less emotional, it often becomes hard for Aquarius to voice out their emotions and showcase their vulnerability. These journals and diaries can be their personal secret-keepers who will help them pen down their feelings that they couldn't express in front of other people.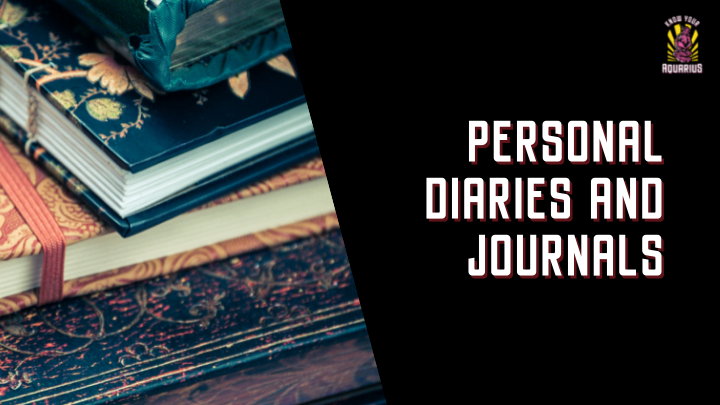 L) Charity
It is one of the most heartwarming gifts you can give to an Aquarius. They are big-thinking visionary people who, despite coming off as rude on the surface, may hold deep love and care for the World and its people. This gift can be quite meaningful for them if done during some special occasions like their birthday.
M) Comfortable And Cozy Clothes.
One thing that an Aquarius loves is being comforted and taken care of.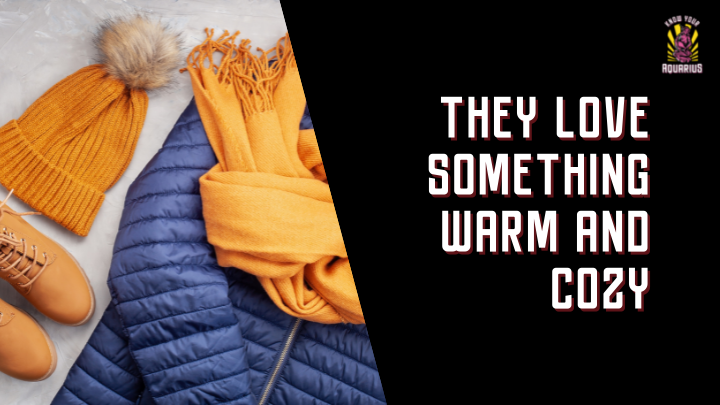 They may often tend to indulge themselves so much in their work that they even forget to take care of their certain necessities. In the winter season, gifting them warm and comfortable clothes may actually be quite useful to them.
N) Traveling items
As mentioned earlier, Aquarius love to travel, hence it is understandable that they may need certain tools while traveling or even camping anywhere. Gifting them this stuff can be quite useful for them.
O) Key Chains With Different Tools
An Aquarius may not buy certain tools, thinking it's useless. Hence, gifting these small things can be a pretty good way to make them use them.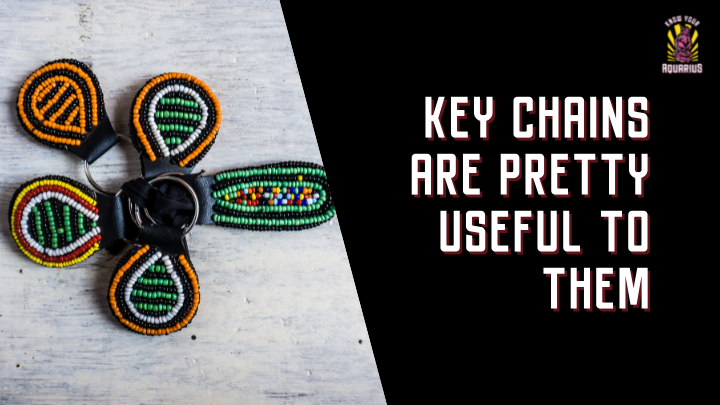 P) Expensive And Cool Gadgets
Aquarius holds a high interest in what today's technology has to offer us. Therefore, gifting them technical gadgets may actually be great! They will love it. But, you have to make sure you are giving them the latest or modern version that they don't have or are craving to get it.
Q) Masterclass Subscription
Aquarians value knowledge. So, what's better than providing them with some. With this masterclass subscription, they can take up any class or subject of their choice and garner knowledge about it.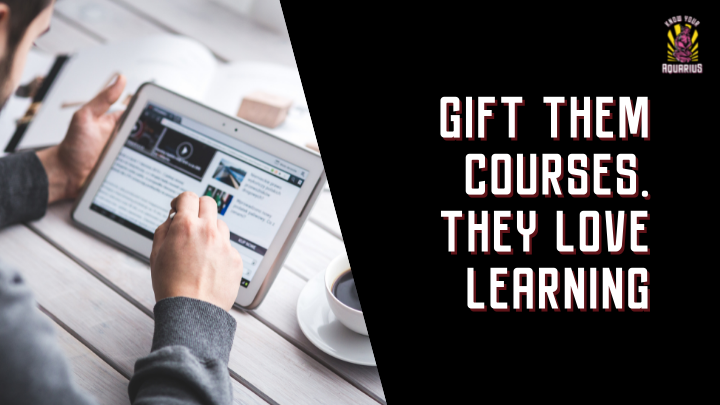 These were some of the gift suggestions that would be loved by an Aquarius.
Now, let me look into top gifts that can be bought for an Aquarius man!
Top Gift Suggestions For An Aquarius Man
Given below are some suggestions and items that you can gift an Aquarius man on different occasions –
1) Birthday Gifts For An Aquarius Man
Aquarius are best friends to the universe, they are social butterflies who enjoy meeting new people and spending time with their close circle of friends. If your man is an Aquarius, then here are some gift ideas to help you celebrate his birthday:
a. A T-Shirt With A Zodiac Fact Or Sign
Sounds simple, but they might love it. The fact that it has something about its zodiac printed on it will make it special to it. Being a simple t-shirt, they can pair it with any bottoms or jackets they want and can also wear it wherever they want. Sounds like a perfect birthday gift! Isn't it?
b. Coffee Potter Cup Set
Coffee cup sets are pretty common as birthday gifts, but you can make them hold a meaning by adding something cool with them. It can be a slogan with deep meaning or a quirky statement. It can even hold a fact about Aquarius or a picture of it.
As long as it is something that connects with them, it is good to go! This gift will seem even more appropriate if the Aquarius person who is receiving this has a love for coffee and consumes it on an everyday basis. They would always remember you while having their coffee then!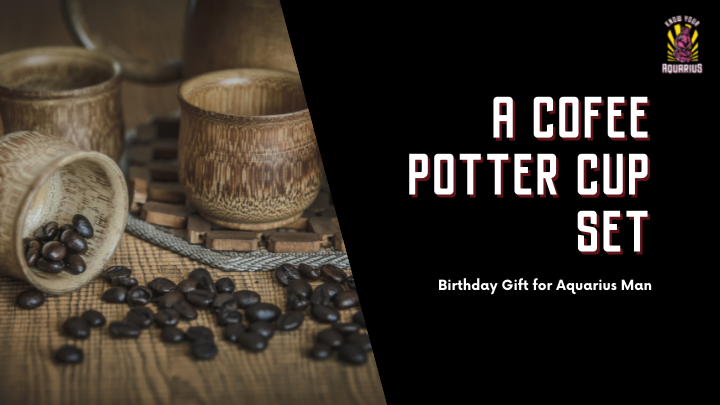 c. Tactical Edc Wallet
These wallets are simple, small-sized purses that hold only essentials. They are small enough to get into pockets, and the person may not have much trouble carrying them around.
It can be really helpful for an Aquarius man to keep his essentials. Apart from this, having RFID tags will keep their wallets secure. These gifts can be considered very thoughtful and meaningful. Hence, if you want to give an Aquarius man something that he can use, give him these!!
d. Cookware Set
Sounds unusual, but this is honestly one of the useful gifts that you can give an Aquarius man, especially a bachelor. You should, however, make sure that the set you are giving him is of good quality and is durable enough.
If the cookware is easy to clean and cook, it's a huge plus. If they are non-stick, they can be really helpful. Same as EDC wallets, this can also be considered a thoughtful and useful gift.
e. Vacuum Insulated Bottle
If your Aquarius friend holds a high love for travelling. You can surely give him something like this on his birthday! It can be very useful for the guy, especially the one who loves travelling, to have an adequate amount of water at a suitable temperature.
He can easily travel both a hot place while keeping his drinking water cold or a cold place while carrying hot water. While buying this item, you can make sure to buy the one with more space and the ability to hold more than enough water for a longer time at a suitable temperature irrespective of the surrounding area it is placed in.
f. Birthday Forever Gift Roses
These can be gifted as very pretty showpieces to an Aquarius man. These are combined and are represented in 12 constellations. This makes them special. Giving this to an Aquarius man on his birthday can be quite great. He may find it beautiful and knowing its meaning he will be very pleased and happy.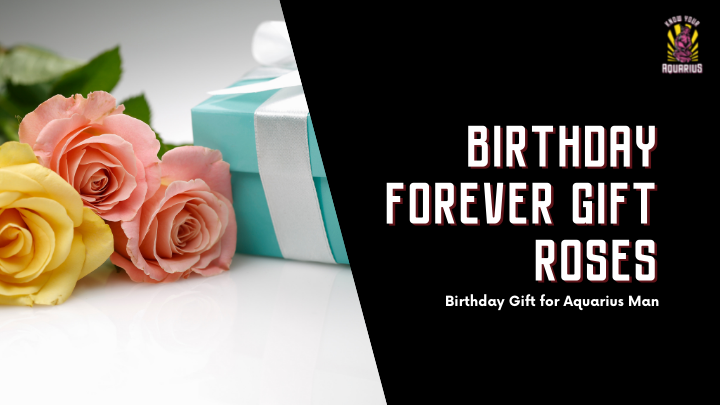 Even though it may not be of much use to him, but its enchanted beauty will keep him close to it. If the Aquarius man is someone close to you, he will surely keep it for a long time and will always remember you while looking at it. Sounds like a great gift to me! What about you?
g. Duffel Bags
Another travel accessory that an Aquarius man would love to have! If you want to give something to an Aquarius man who loves to travel. Duffel bags are one of the best choices!! It is a must for every traveller, especially those who carry a lot of stuff around.
While buying a duffel bag, you should make sure that they have good quality and enough space to put stuff. You should ensure its material is good and light enough to carry around. It should be comfortable to hold and can be adjusted easily if not needed. By ensuring these points, you can surely make a perfect travel bag for an Aquarius man on his birthday! These gifts are very much preferable if he is planning to travel after his birthday.
h. Push Up Board
If you know an Aquarius guy who is into fitness, this could literally be the perfect birthday gift for him. You can even give this to someone who is new to exercising or is planning to start soon.
While choosing a perfect pushup board, one has to make sure they can choose the one with the widest tools. It should have tools that help him to work on his upper body completely and would benefit his muscles from all angles. Buying such a gift will surely motivate and encourage your Aquarius friend to work out on this!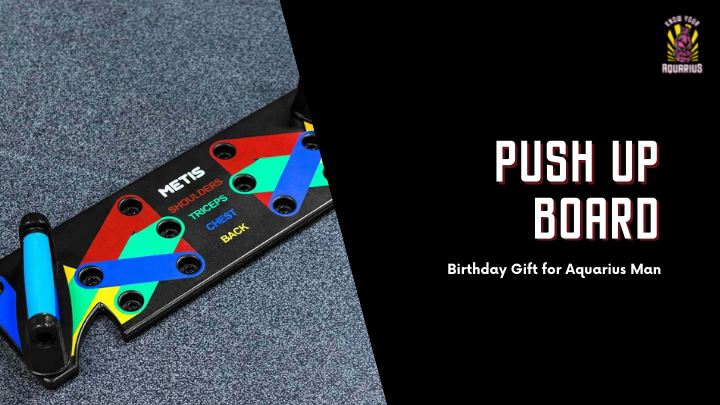 I. Strategy Or Card Games
It is a very simple yet fun birthday gift you can give to an Aquarius man. These games are loved when played together. It never fails to bring people together. But more than that, these games also help you actually to use your brains in fun ways. And where there is the usage of the brain, there is Aquarius!
They will love it if you gift them a deck of cards or even games like chess or monopoly. You can definitely consider gifting this to someone!
j. Sandwich Maker
If you are not interested in buying something like cookware set for an Aquarius male, then you can consider buying a sandwich maker instead. They wouldn't have to work hard making sandwiches for their breakfast, they can simply have it done by a sandwich maker!!
It can actually help them prepare breakfast in a few minutes rather than wasting time. It is even better if the sandwich maker provides other tools too. This is definitely helpful for those who don't have time for cooking breakfast or those who simply find it hard to cook.
You can choose your product according to the budget. However, make sure whatever you buy should last long and is of good quality!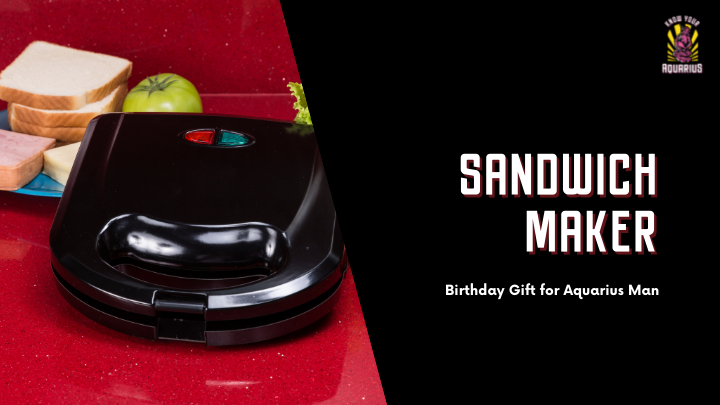 k. Beverage Cooler
If your Aquarius friend is struggling to keep loads of drinks and juices in the fridge, then my friends! Beverage cooler is just for them.
This is very sufficient in storing all of his drinks and that too in good condition. His drinks will be stored in a systematic way and will occupy very little space. Its mechanism may even attract the Aquarius guy, who will be more than happy to keep this gift in his house.
l. 10 Piece Game Jerky Sticks
Aquarius, a zodiac that loves experiencing and experimenting, would absolutely love this! They will absolutely love to have it with you and your group of friends. You can create a sort of game over this and play together. It will surely be a memorable one!! Do give this a try by gifting it to your Aquarius friend. Rest will be followed up by him!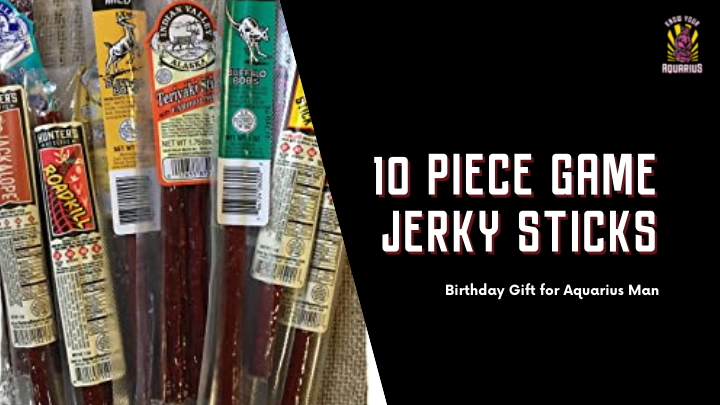 m. Leather Journal
Being someone who is not that great when it comes to emotions, Aquarius often finds themselves alone in the emotional turmoil of their own. Their closed-off personality will make others confused. They don't trust people easily and will not want to be vulnerable In front of them.
At times, they themselves are confused about their feelings and wants. Giving such people a journal is one of The best presents you can think of. They can write about their feelings, emotions, and their days without any fear of it being known to anyone. Writing their problems at times may also help them overcome them. They will be less stressed about their tensions by letting them out in their journals!
However, before buying this, you should make sure to know if the person is actually interested in writing. There is a very low chance that an Aquarius will find it boring since they are a creative and intellectual sign. But it is better to know about such things before giving them.
n. Books And Novels
Don't be surprised if you see a shelf full of books in an Aquarius' house. Being intellectual people, it is obvious that they will hold a deep and immense love for anything that imparts them with knowledge and broadens their perspectives.
Though there might be differences in their choices, for example, one may like reading a thriller novel over a science fiction but interest over books lies the same. They are sure to love it if you give them a book of something they hold interest in, they can even be fascinated by reading books on their zodiac Aquarius.
If they are someone who loves reading novels, gifting them one with a good and gripping plot will be worth it!!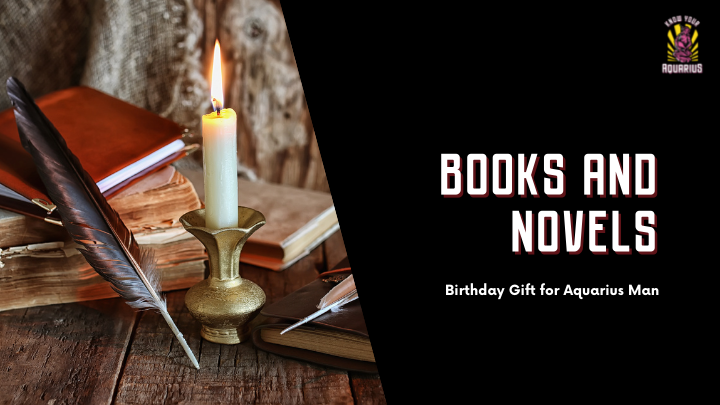 o. Daily Planner
An Aquarius can often find it difficult to handle their schedules at times. They may have too much in store for them that they may forget or skip some work. An unplanned day full of work is definitely a chaotic one. Well, a daily planner can help them in that.
Give your busy Aquarius guy friend a daily planner and see the magic! It will help them plan out their events accordingly, leading them to have an organized and productive day.
2) Surprise Gifts For An Aquarius Man
To all the ladies who are love an Aquarius man, wondering what would make your Aquarius man smile? If you're looking to surprise your Aquarius guy out of the blue, read on!
a. Movie Night
Girls love surprises!! Guys do too!! Movie Night is one of the best things to do if you are dating An Aquarius. It's sweet, simple, and romantic. You could give him a surprise after his stressful day of work, By setting up a great movie to watch with all the snacks. This can be considered a date too. Two partners can just cuddle together and watch something. This surprise may definitely relieve his stress and will strengthen your bond.
b. Expensive Gadgets
Aquarius, as mentioned earlier, Are big admirers of technical gadgets. But at times, due to them being expensive, they might find it difficult to buy it. At those times, when you surprise them with such gifts. They are bound to love it. It can be a new laptop or anything in the market. When you get something they truly wish for, it will automatically bring them closer.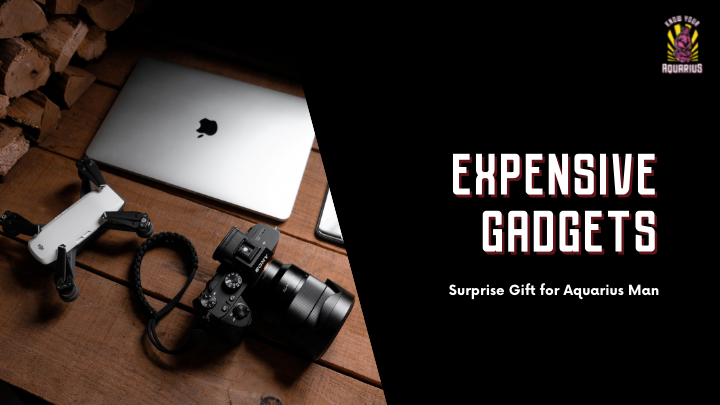 c. Surprising Them With Trips
The title says it all, travelling is something that an Aquarius loves to do! When you surprise them with the tickets to their dream destination, their reaction sure would be priceless! If not a dream destination, you can surely surprise them with some great adventurous trips! You just have to plan your trip dates and places according to your comfort and likings.
d. Surprising With Tools And Instruments
If an Aquarius has a hobby, it would be great to surprise them with something that might be helpful for their improvement in it. For example- if an Aquarius guy loves to play violin, surprising him with one would be a great idea!! What do you think?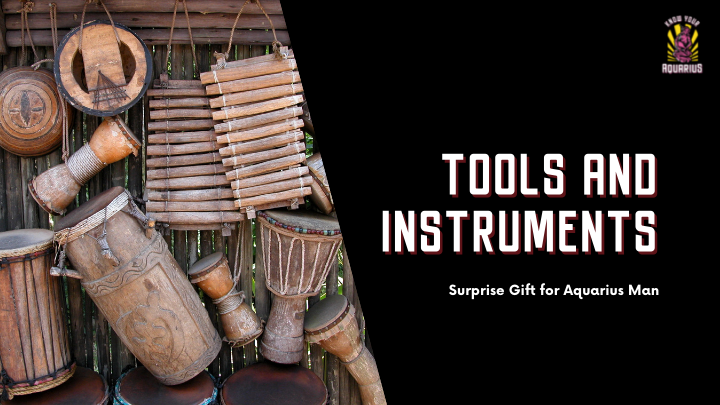 3) Unique Gifts For Aquarius Man
It won't be wrong to say that Aquarians are suckers for unique stuff. If you want to catch Aquarius' attention, give them something unique!
a. Handmade Sunglasses
The 'handmade' here would be more than enough to grab his attention. These sunglasses are durable and wooden-made. Though simple and funky looking, it is definitely something an Aquarius would keep!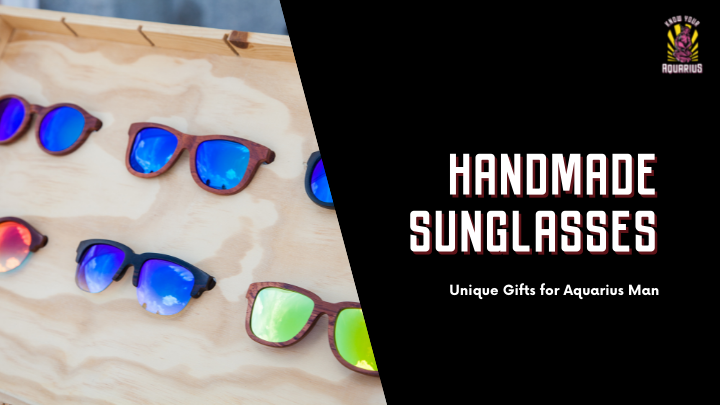 b. Model Building Kits
You can definitely surprise an Aquarius guy with this unique gift. They would love to sit in their room and decide their heart and mind in building the model. It will keep them indulged till the end, and their dedication will make this work fun for them!
c. Self Made Things
Aquarius can be highly appreciated if you dedicate something to them and give them something made by you and represents you. It will automatically become special for them. They can see the efforts and dedication you have put into giving them that particular present.
It can be quite heartwarming for them. It can be anything, like a painting or pot made by you. Though you may have to put in a lot of effort, as long as it is for someone close to you, it's with it!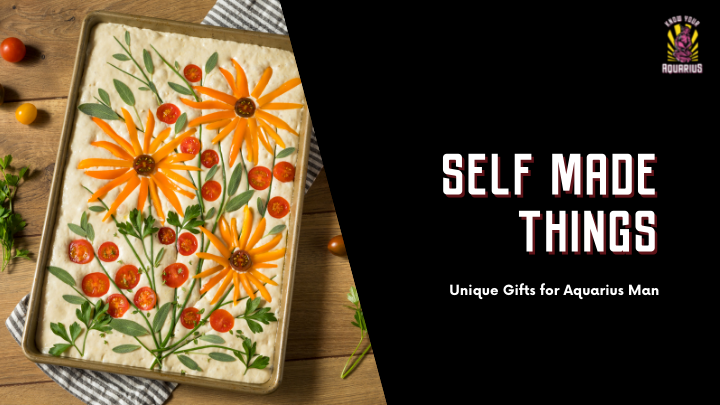 4) Valentine's Day Gift For Aquarius Man
Valentine's Day is coming up and if you're looking for a gift for your Aquarius man, there are some great options out there! Your Aquarius guy may have a tough time showing his affection towards others, but he will appreciate gifts that show him how thoughtful you really are.
Won't you please show him this Valentine's Day how much he means to you?
a. Crystal With Light Base
This can be a great valentine's gift you can give your partner. You can engrave something deep and meaningful in it. You can even keep some messages for them. It could be one of the sweetest gifts one could give their partners.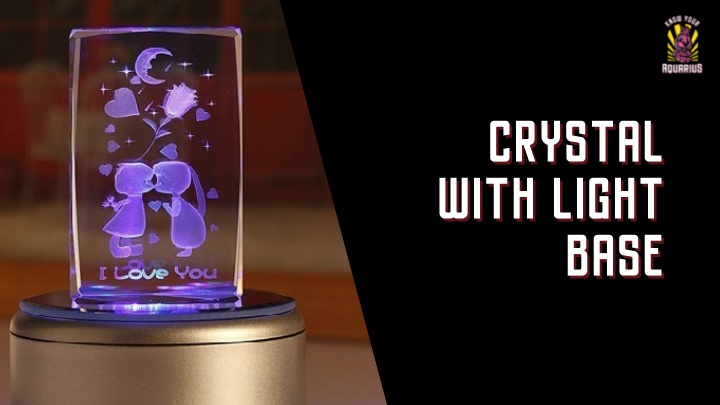 b. Zodiac Candle
This is something special you can gift your Aquarius partner. You don't need to choose colorful candles with various decorations and designs in them. Just simple ones are more than enough. As long as they are beautiful, it will work!
c. Watch
This is probably the most common Valentine gift ever!! But still, a watch is something men really like to be gifted with. In the case of Aquarius, a simple and sophisticated watch will do the job!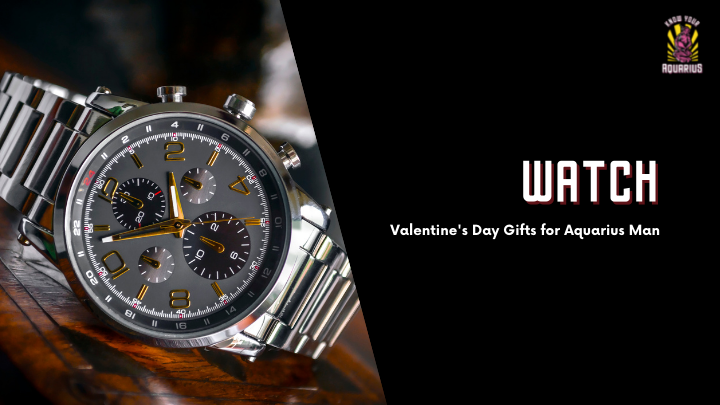 d. Wine Glasses
Wine glasses can be great Valentine's day gifts. It can be pretty useful to them in the future too!
e. Aprons
Yes!! You read it right!! It sounds weird, but if your Aquarius boyfriend loves cooking, you should definitely give them this! You can even add some cool slogans and sentences printed on it to make it cool.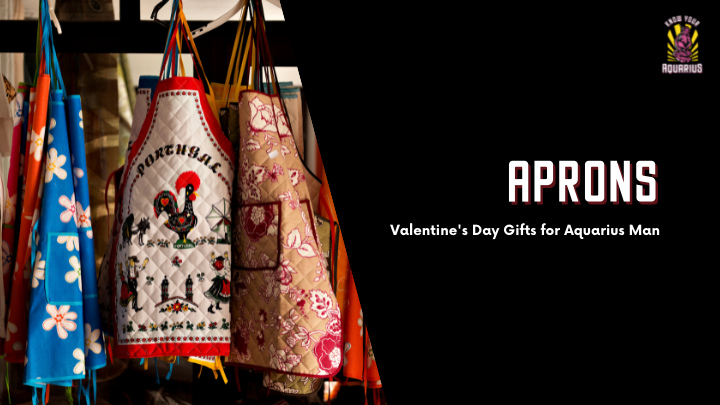 f. Kindle
If your Aquarius guy loves reading, kindle is the best thing you can give him. There will be tons of books in it for him to read in his free time. You can even make sure it is waterproof!!
5) Spiritual Gifts For Aquarius Man
Being an Aquarius, you are the type of man who likes to be surrounded by friends and family, but at the same time is an introvert. You are also a little bit eccentric. To have you enjoy your day, try these spiritual day gifts for an Aquarius man.
a. Zodiac Necklace
Getting an Aquarius necklace can be quite cool. They can connect to the accessory that represents their zodiac. As long as it's simple and cool, they will surely love it!!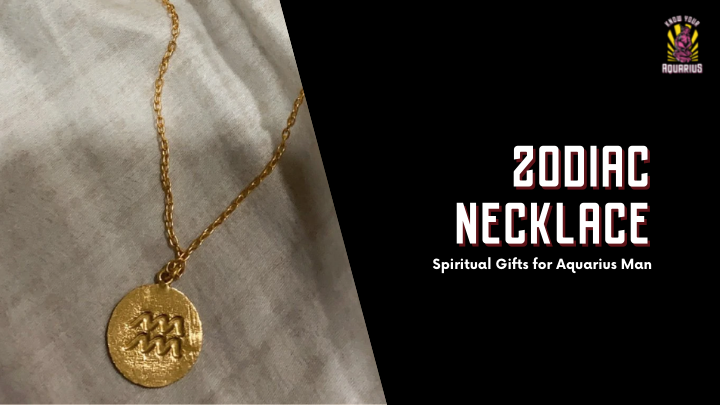 b. Buddha Showpiece
If the Aquarius man for whom you are buying a gift is religious and believes in peace, Buddha's showpiece is something you can think of giving him. He will definitely appreciate your efforts in gifting him such a wonderful present.
6) Caring And Thoughtful Gifts For An Aquarius Man
a. Bring Them Comfortable Clothes
Aquarius men love it when you show them your care. It need not be by words, your gestures and actions are enough. When you think about their comfort and give them clothes, according to the weather, they will love it!!
b. Multitool Camping Tool
If an Aquarius guy is planning camping, this is a perfect gift to give them. Being a kit with different types of tools, all in one, they may not have to face the struggle of buying them one by one.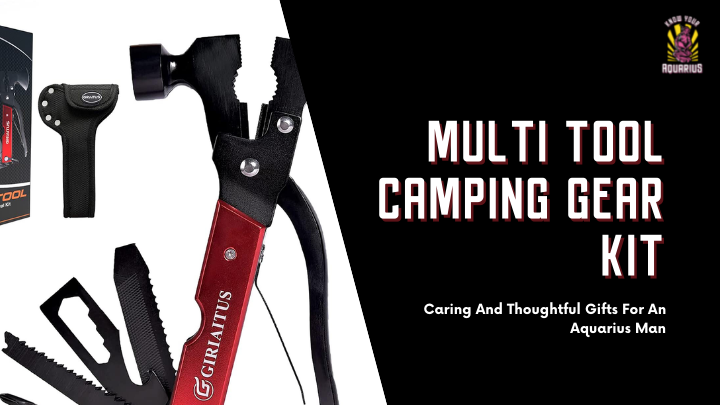 c. Fleece Cotton Blanket
Busy in their schedules, an Aquarius may often forget about simple stuff like blankets. By giving them these, you can, in a way, ensure they are taking care of themselves. Not just blankets, you can also give them other stuff like a flashlight, lamps, etc.
d. Foot Massage Slippers
These are unique kinds of slippers that actually put pressure on the acupuncture points of feet while walking. If an Aquarius man is struggling with walking a lot in a day, he can definitely help himself with these slippers.
So these are basically all the gift suggestions and items that an Aquarius guy may like!! It depends on what kind of person he is. If you want to gift a studious person, books may be the best. If you want to gift an artist, art pieces may be the best. Just know what the person likes and where their interests lie in, and you can plan your presents and surprises accordingly!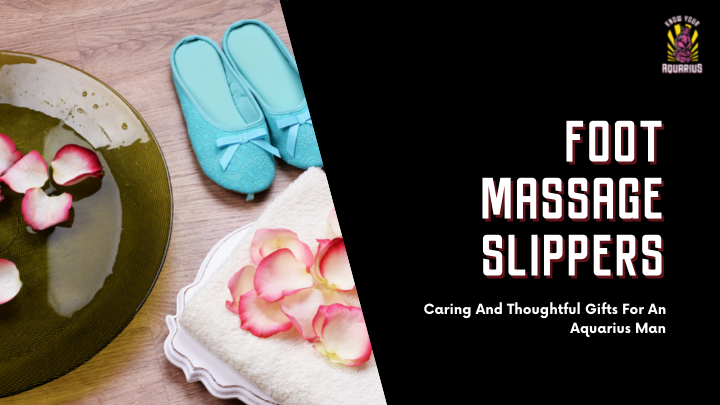 No Holding Off, Get Your Aquarius Man a Gift Now!
After talking about Aquarius' likes and the kinds of gifts that they would like to receive, one thing is evident that they are always up for presents. Innovative and interesting techniques intrigue them. Travelling excites them. Surprises? Oh, they love it! Books? They'll love to have it.
They have this vast diversity in their likes and interests that it becomes super easy for someone to give them something. They love things in all kinds of price ranges, so if you can't afford a pricey and expensive gadget, then that's fine!! They are happy as long as it is something unique and creative.
They also appreciate it if you learn about their hobbies and try to give them something related to it.
In short, there are a variety of surprises and gifts you can buy for an Aquarius. Just make sure to know something about them and choose their gifts accordingly!!
We Wanna Know!!
1) Do Aquarius Men Like Gifts?
Oh, they love it!! It will be perfect if you choose something unique and creative to gift them. They also like technical gadgets and scientific objects, so you can think about giving them that too.
2) Do Aquarius men love surprises?
Yes! they do love surprises, ESPECIALLY if that surprise has to do something with trips and travelling. They are more into experiencing and trying new things, hence, it would be safe to say that they would love to visit a place they have never been before!
3) What Are Aquarius' Favourite Things To Do?
Well, this changes from person to person. But putting in general terms, we can say that they hold interests in different fields like art, music or literature. They love travelling so visiting new places is on the list too!
4) What Is Aquarius' Favorite Colour?
They usually love violets, blue and black. They also love psychedelic colors and electric colors that tend to change their shade with the amount of light. Therefore, they would most probably love gift items with such colors.
5) What Are The Things That One Should Avoid While Gifting An Aquarius?
Well, you should be careful about their likes and dislikes. You can definitely give them something that can be used by them. They love expensive stuff but may not like something over the top. Cheesy surprises? They might find it cringy. Just try to keep it simple and innovative if possible.
6) How Would an Aquarius React After Receiving a Gift?
Their reaction will be based on what gift you give them and how they take it! Each Aquarius may react differently. However, one thing is for sure that if your gift is something that they would love, there is no doubt they will surely like it.